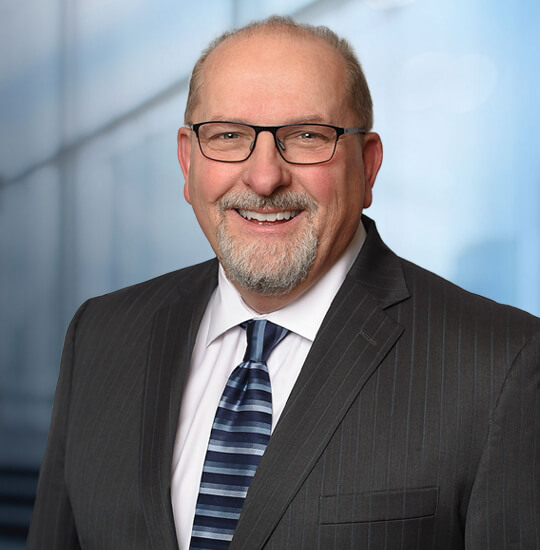 James H. Birch
Practice Areas
Education
University of Arkansas School of Law Fayetteville (J.D. 1982, with high honors)
University of Arkansas (B.A. 1979)
Admitted to Practice
State Bar of Texas
State Bar of Arkansas
Awards & Honors
Best Lawyers ® 2015 edition, Lawyer of the Year — Labor Law – Union
Best Lawyers ® 2015 edition of The Best Lawyers in America – Commercial Litigation, Employment Law – Management, Labor Law – Union, Litigation – Labor and Employment
Best Lawyers ® 2014 edition of The Best Lawyers in America – Commercial Litigation, Litigation – Banking and Finance, Bankruptcy, and Mergers and Acquisitions
Best Lawyers ® 2013 edition of The Best Lawyers in America – Commercial Litigation
Texas Super Lawyer, Employment Litigation – Law & Politics Magazine and Texas Monthly, 2008-2015
Best Lawyers, Labor and Employment Law – D Magazine, 2011-2015
Focus of Practice
Occupational Safety and Health
Corporate Compliance
Trade Secret and Proprietary Information
Professional Liability and Ethics
Professional/Civic Activities
State Bar of Texas
- Labor and Employment Law Section
- Litigation Section
American Bar Association
- Labor and Employment Law Section
- Litigation Section
Sample Speaking Engagements
"Update on Whistleblower and Retaliation Law," Multinational General Counsel Boot Camp, Center for American and International Comparative Legal Studies, 2015
"Foreign Corrupt Practices Act and AML Compliance," Varel International Management Conference 2014
"Who is My Client, Loss Prevention for Health Care Lawyers," Health Law Conference sponsored by the Health Law Section of the State Bar of Texas and the Texas Hospital Association, 2007
"Ethical Issues and Malpractice Prevention for Healthcare Lawyers," University of Houston Health Law Seminar, 2007
Panelist, "Labor and Employment Law Roundtable-Recent Developments", sponsored by Texas Lawyer, 2007
"Traps for the Unwary, Ethical Pitfalls in Tax Practice" Tax Section of Dallas County Bar Association, 2007
"Legal and Ethical Issues in Electronic Discovery" International Council of Shopping Center Counsel Conference, Orlando, Florida, 2006
"How to Take and Defend the Executive's Deposition," Texas Bar CLE-Webcast, 2005
"Compliance Programs One Year After the Sentencing Guidelines Amendments," Panelist, South Texas College of Law, Corporate Compliance Center, 2005
"Wage & Hour Update, New Developments Under an Old Standby," Hughes & Luce Client Briefing, Dallas, 2003
"Recent Developments in Labor and Employment Law," Dallas Baptist University, Masters of Human Resources class, 2003
"HR Practices to Keep You Out of Jail," Law@work 2002, Dallas and Austin, Texas, 2002
"Pick Your Poison: Arbitrate or Litigate," Law@work 2001: Strategies for Change, Dallas and Austin, Texas, 2001
"Ethical Dilemmas in Joint Defendant Cases: Who's Your Buddy?" Law@work 2001: Strategies for Change, Dallas and Austin, Texas, 2001
Practice Description
Mr. Birch represents business clients in all aspects of labor and employment law and in commercial litigation. During 33 years of practice, he has assisted businesses in a variety of industries, including outsourcing, information technology, insurance, healthcare, hospitality, manufacturing, retail and wholesale, transportation, media, professional services, banking and construction.
In addition to counseling clients on compliance with labor and employment laws and employee benefits, Mr. Birch represents employers in court, administrative and arbitration proceedings in individual, class and collective actions. Mr. Birch represents clients in whistleblower, corporate compliance and internal investigation matters. He represents clients in trade secret and confidential information litigation, including covenants not to compete. Mr. Birch also represents professionals and executives in employment and separation agreements.
Mr. Birch's business litigation practice includes shareholder/partner disputes, breach of fiduciary duty, fraud, contract, professional liability and business torts. He also regularly represents companies relating to corporate compliance programs and in regulatory matters.
Representative Experience
Watson v. Surf-Frac Wellhead Equipment Co., Case No. 4:11-cv-00843 (E.D. Ark. 2013) (Order Decertifying Collective Action and Order Denying Motion for Leave to Add Additional Plaintiffs)
McCloud v. McClinton Energy, Case No. 5:14-cv-620 XR (W.D. Tex 2014) (Order Granting Motion to Transfer FLSA Collective Action)
Palasota v. Haggar Clothing Co, 499 F.3d 474, (5th Cir. 2007) (ADEA appeal)
Bacon v. Electronic Data Systems, 219 Fed.Appx. 355, 2007 WL 625008 (C.A.5 2007) (FMLA Retaliation)
Raven Services Corp. v. National Labor Relations Board, 315 F.3d 499, No. 01-60976 (5th Cir. 2002) (Appeal of an NLRB bargaining order)
Johnson v. SBC Advanced Solutions, Inc., Not Reported in F.Supp.2d, 2004 WL 1151650 (N.D.Tex.,2004)
Treadway v. Shanks, 110 S.W.3d 1 (Tex.App.-Dallas,2000)
Lyon College v. Melissa Gray, 67 Ark. App. 323, 999 S.W. 2d, 213, 1999 Ark. App., Lexis 605 (Ark. App. 1999) (Breach of contract claim under a collegiate Honor Code)
Four T's, Inc. v. Little Rock Municipal Airport Commission, 108 F.3d 909 (1997) (Complex case involving claims under the Airport and Airways Improvement Act, Sherman Act and 42 U.S.C. § 1983)
Pace Industries, Inc. d/b/a Precision Ind., Inc., 320 NLRB No. 15, 1996 NLRB Lexis 23 (1996) (Successorship and discrimination case under the National Labor Relations Act)
Simmons v. Lockhart, 915 F.2d 372 (8th Cir. 1990); Simmons v. Lockhart, 856 F.2d 1144 (8th Cir. 1988); and Simmons v. Lockhart, 709 F. Supp. 1457 (E.D. Ark. 1989) (Death penalty habeas corpus case)
Monroe v. Guardsmark, Inc., 856 F.2d 1065, 47 F.E.P. Cases 425 (8th Cir. 1988)
Monroe v. Guardsmark, Inc., 660 F. Supp. 1357, 44 F.E.P. Cases 1232 (W.D. Ark. 1987) (Employment discrimination case)
Cobb v. Stringer, 850 F.2d 356, 47 F.E.P. Cases 130 (8th Cir. 1988) (Employment discrimination case)
Bracamontes v. Weyerhaeuser Co., 840 F.2d 271 (5th Cir. 1988) (Agricultural Worker Protection Act case)
Thomerson v. Lockhart, 835 F.2d 1257 (1987) (Habeas corpus appeal)
Mary Baggett v. Program Resources, Inc., 806 F.2d 178, 42 FEP Cases 648 (1986) (Employment discrimination case)
Donovan v. Rose Law Firm, 768 F.2d 964, 119 L.R.R.M. 3345 (8th Cir. 1985) (Constitutional challenge to the consultant reporting provisions of the LRMDA)
NLRB v. Monark Boat Co., 713 F.2d 355, 113 L.R.R.M. 3749 (8th Cir. 1983) (Challenge to the NLRB's certification of election results)
Davis Forestry v. Smith, 707 F.2d 1325 (11th Cir. 1983) (AWPA appeal)
Monark Boat Co. v. NLRB, 708 F.2d 1322 (8th Cir. 1983) (Equal Access to Justice Act appeal)
Williams v. BLM Co., Inc., 731 F. Supp. 231, 52 F.E.P. Cases 459 (N.D. Miss. 1990) (Employment discrimination case)
Supreme Court Committee on Professional Conduct v. Muhammed, 291 Ark. 225, 723 S.W. 2d. 828 (1987) (Represented the committee in a contempt proceeding against an attorney)