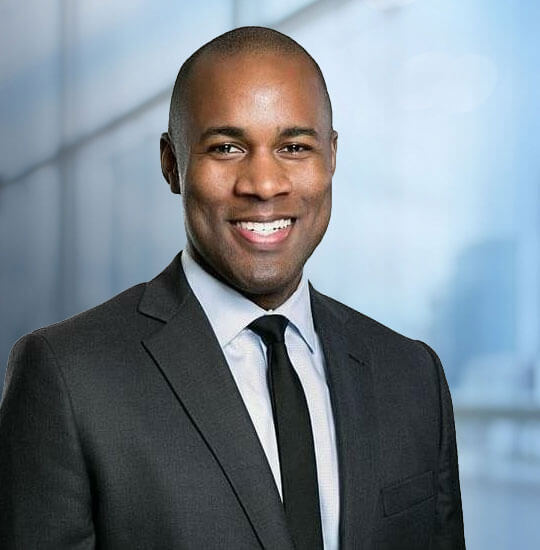 Justin K. Sauls
Education
SMU Dedman School of Law, J.D., 2011
The University of Texas at Arlington, B.B.A., 2003 cum laude
Admitted to Practice
State Bar of Texas
State Bar of Georgia
U.S. District Court Eastern District of Texas
U.S. District Court Northern District of Texas
U.S. District Court Southern District of Texas
U.S. District Court Western District of Texas
U.S. District Court Middle District of Georgia
U.S. District Court Northern District of Georgia
U.S. District Court Southern District of Georgia
U.S. District Court for Colorado
Focus of Practice
Consumer Financial Litigation & Compliance
Financial Institutions
Business Litigation
Affiliations and Memberships
Frisco Family Services – Board of Directors
J.L. Turner Legal Association (African American Bar Association)
QSLWM – Diversity and Inclusion Committee
Practice Description
Justin K. Sauls primarily represents financial institutions in complex lawsuits including Fair Credit Reporting Act, Fair Debt Collection Practices Act, Telephone Consumer Protection Act, deceptive trade practice laws, breach of contract, fraud, and other similar consumer claims. Justin has also served as both in-house and outside counsel in the area of mortgage banking compliance with a particular emphasis on advising banks, mortgage originators/servicers, and other financial service providers on compliance with the laws governing their business.
Representative Experience
Represented national credit reporting agency in FCRA litigation and other consumer credit claims.
Successfully briefed and argued motions to dismiss and other dispositive motions on behalf of national credit reporting agency.
Successfully negotiated zero-dollar dismissals and other favorable settlements in consumer credit litigation.
Provided lender defense in consumer lawsuits concerning wrongful sequestration, conversion, deceptive trade practices and debt collection practices.
Represented lenders in foreclosure and collection lawsuits.
Served as legal counsel in the compliance audit and loan servicing practices review of a large publicly-traded national mortgage servicer by the California Department of Business Oversight.
Advised mortgage originator/servicer on multi-state litigation, including review of pleadings, coordination of pre-trial activities and motions, production of discovery, and strategy concerning hearings, trial, and appeal.
Advised mortgage originator/servicer on the business impact of the CFPB Mortgage Servicing Rules and assisted with changes in policies and procedures.
Advised mortgage originator/servicer on internal operations and production department processes to comply with all applicable mortgage loan origination/servicing laws and investor guidelines.
Advised mortgage originator/servicer on internal QC findings and monitored remediation and self-reporting efforts with respect to the company's originations channels.
Advised mortgage originator/servicer on company's loss mitigation activities pursuant to repurchase demands and HUD PETR/VA deficiency claims. Responsible for the development of a team of underwriters that performed forensic analysis in connection with investor/agency repurchase/indemnification claims.
Advised mortgage originator/servicer on recovery efforts against correspondent lenders and brokers, i.e., contract disputes and remediation efforts related to unsalable loans, early payment default, early payoff, pair-offs, trailing documents, escrow shortages etc.
Publications, Seminars, and Cases
Beacon Sales Acquisition Inc. vs. Diamond Rock Construction, LLC, DC-17-09831 – 68th District Court, Dallas County
Superior Express, Inc. v. Reliance Funding LLC, 401-02595-2017 – 401st District Court, Collin County
Leandra Cutz-Chan vs. Tsalech, LLC et al.  DC-18-05514 – 298th District Court, Dallas County
Medellin v. Jimenez, CC-17-05392-E – County Court at Law No. 5, Dallas County
Tolocko vs. McKinney, D-1-GN-18-000882 – 126TH District Ct., Travis County
Taylor vs. Mockingbird Automotive LLC, DC-17-09307 – 191st District Court, Dallas County
Carranza vs. Gomez, DC-17-16827 – 193rd Judicial District Court, Dallas County
In re:  Estate of Fred Allen Jr., Deceased,  PR-18-00330-3 – Probate Court, Dallas County
Hall vs. Shanklin-Wills, CC-16-04872-A – County Court at Law No. 1, Dallas County
In re:  Estate of Charles A. Alcorn, Deceased  PR-15-01881-1 – Probate Court, Dallas County
Dominguez v. DeLeon Construction, 366-04927-2017 – 366th District Court, Collin County
Day vs. Artec, LLC 01-SC-15-00228 – Justice of the Peace Precinct 1, Collin County
In re:  Estate of Taj J. Wright, Deceased,  PR-18-00996-1 – Probate Court, Dallas County
Pickens vs. Miller, CV-2018-01180 – County Court at Law No. 2, Denton County
In re:  Estate of Sherman Ingram, Deceased  PR-17-03969-2 – Probate Court, Dallas County
Austin Trust Company vs. Reed, C-1-PB-17-001186 – Probate Court No. 1, Travis County