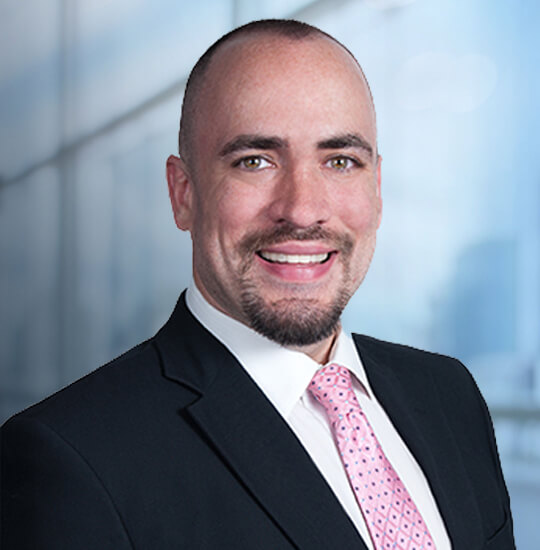 Kieran Leary
Education
Florida International University, College of Law (J.D., 2010) (Top 10% of graduating class)
University of Maryland, College Park (B.A., 2005)(cum laude)
Admitted to Practice
State of Texas
State of Florida
State of Connecticut
Commonwealth of Pennsylvania
Commonwealth of Massachusetts
All Texas federal courts
All Florida federal courts
United States District Court for the District of Connecticut
United States Court of Appeals for the Second Circuit
Awards & Honors
Connecticut Law Tribune—2018 Insurance Coverage Litigation Department of the Year
Practice Description
Mr. Leary is a Partner in QSLWM's Insurance Coverage Group, where he focuses his practice on first party property damage and third party liability claims. He has frequently been retained in complex and high-exposure coverage disputes across the country, including COVID-19 lawsuits, Hurricane Harvey and hail suits in Texas, sinkholes in Florida, crumbling concrete foundation "collapse" claims in Connecticut, and sexual abuse claims.
Representative Experience
Kieran was lead counsel in the trial court and co-appellate counsel in the seminal Connecticut Supreme Court case of Karas v. Liberty Ins. Corp. 2019 WL 5955947 (Conn. 2019), which resolved the crumbling foundation crisis decisively in favor of insurers. He was lead counsel in the trial court and before the Connecticut Supreme Court in Karas' companion case, Dino v. Safeco Ins. Co. of Am, which was recognized by Law360 as one of "4 Insurance Battles To Watch At State High Courts" in the Fall of 2019. Karas and Dino saved insurers as much as $2 billion in contractual damages alone and Karas has frequently been recognized as one of the top 5 insurance cases of 2019.
Attorney Leary was selected as lead counsel for multiple insurers in crumbling foundation litigation at a time when almost all insurers were settling these lawsuits for substantial figures. Kieran quickly turned the tide and repeatedly obtained favorable judgments of first impression which resulted in the recognition of his prior firm as the Connecticut Law Tribune's Insurance Coverage Litigation Department of the Year.
Kieran possesses extensive and successful first chair jury trial experience in high exposure insurance coverage disputes and also maintains a successful appellate practice, including significant victories before the Connecticut Supreme Court and the United States Court of Appeals for the Second Circuit.
Kieran was born and raised in the East Mount Airy/Germantown of Northwest Philly. He has never forgotten his background and remains deeply committed to advancement for individuals whose inequitable lack of societal opportunities prevent them from reaching their full and vast potential. Among other efforts, he spent his summers in college dedicated to community educational and literacy outreach efforts in Philly's most impoverished minority communities on behalf of the Philadelphia Phillies.
Publications, Seminars, and Cases
Karas v. Liberty Ins. Corp., 2019 WL 5955947 (Conn. 2019)(Substantial impairment of structural integrity standard applies to "collapse" provisions of homeowners' policy and requires a showing that the building is in imminent danger of falling down or caving in; and coverage exclusion for loss to foundation includes the basement walls)
Lester v. Liberty Mut. Fire Ins. Co., 325 F.Supp.3d 243 (D. Conn. 2018)(Judgment in favor of insurer in a crumbling foundation lawsuit in matter of first impression regarding proper interpretation of "collapse" provision in policy)
1700 Barnum Ave. et. al v. West American Ins. Co. (Conn. Super. 2017)(Defense verdict as first-chair following five-day jury trial in matter concerning multi-million dollar commercial property loss)
Alexander v. General Ins. Co. of Am., 2017 WL 188134 (D. Conn. 2017)(Judgment in favor of insurer in a crumbling foundation lawsuit in matter of first impression concerning proper interpretation of abrupt "collapse" provision in policy)
Kowalyshyn v. Excelsior Ins. Co., 2018 WL 888724 (D. Conn. 2018)(Judgment in favor of insurer in matter of first impression which established the applicability of a manifestation coverage trigger to first party property loss claims)
Soderburg v. Unitrin Preferred Ins. Co., 2018 WL 3862330 (Conn. Super. 2018)(Judgment in favor of insurer in matter of first impression which addressed interplay of appropriate coverage trigger for first party property losses in relation to Policy's suit limitation provision)
Roberts v. Liberty Mut. Fire Ins. Co., 264 F.Supp. 3d 394 (D.Conn. 2017)(Judgment on bad faith and unfair insurance practices counts in a "collapse" lawsuit in matter of first impression which established good-faith nature of coverage denial in bonafide coverage dispute)
Betancourt v. Florida Ins. Guar. Ass'n., Inc., 153 So.3d 936 (Fla. 2d DCA 2014)(Judgment in favor of defense in confirmed sinkhole in matter of first impression concerning interplay of Florida's sinkhole and guaranty fund statutes)