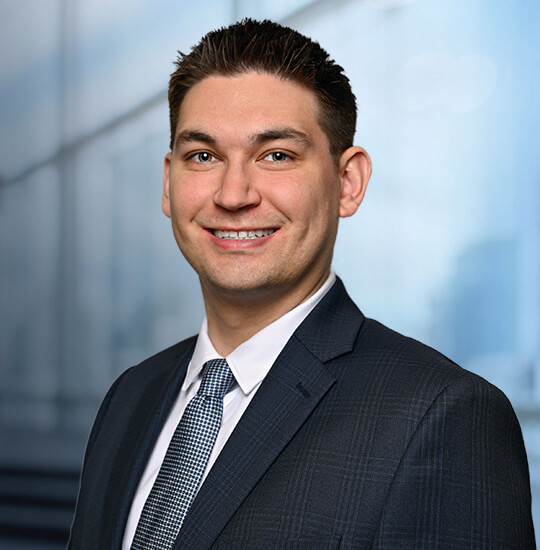 Michael W. Huffstutler
Practice Areas
Personal Injury Defense
Premises Liability / Nonsubscriber Defense
Education
University of California- Hastings College of Law, J.D. 2018
University of Minnesota Twin Cities, B.A. 2015
Admitted to Practice
State of Texas
United States District Courts for the Northern Districts of Texas
United States District Courts for the Eastern Districts of Texas
Awards & Honors
Top 40 Under 40 – American Academy of Attorneys (2020)
Practice Description
Michael Huffstutler's complex litigation practice focuses on defending high exposure casualty and coverage claims from a variety of backgrounds including: premises liability, dram shop, wrongful death and survivorship, property damage disputes and valuation, product defect and products liability, medical negligence, trucking and transportation, and general negligence claims.
Michael proudly represents a diverse body of clientele consisting of commercial and small businesses, professionals and professional organizations, bars and restaurants, apartment complexes, service providers and retail installers, manufacturers (including component part manufacturers), and oil and gas companies (including flare stack operators).
Representative Experience
Michael prides himself on his reputation for working closely with his clients and meticulously and vigorously defending their cases through each stage of the litigation process, including trial when necessary.
Some of Michael's Notable Achievement's include the following:
Successfully argue client's No-Evidence Motion for Summary Judgment on Plaintiff's claims of negligence, negligent hiring, training, supervision, and retention, malice, and gross negligence in the 352nd District Court of Tarrant County. After an hour of oral argument before Hon. Josh Burgess, Judge Burgess granted summary judgment in favor of client/contractor, dismissing all of Plaintiff's claims with prejudice.
Obtain a $0.00 settlement and release on behalf of a professional client (optometrist) sued for medical negligence at mediation.
Obtain a complete dismissal for client/manufacturer joined in complex federal products liability litigation in the Eastern District of Texas.
Obtain critical procedural judgments regarding discovery disputes in hostile jurisdictions, including motions to compel pursuant to In Re North Cypress, In Re K & L Auto Crushers, and In Re ExxonMobil Corp.
Michael's tenacious and practical approach to legal representation consistently produces favorable results aligned with his clients' objectives. It is his firm belief that the strongest defense is an aggressive offense.
In addition to being licensed to practice across all state courts in Texas, Michael handles federal cases and maintains active licensure in both the United States District Courts for both the Northern and Eastern Districts of Texas.