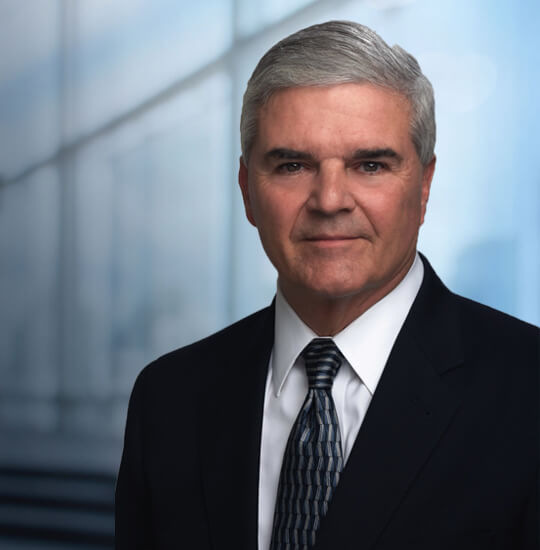 James H. Moody III
Practice Areas
Product Liability/Toxic Torts
Education
Southern Methodist University, J.D. 1978 (cum laude)
Southern Methodist University, B.A.S., 1975
Admitted to Practice
State Bar of Texas, 1978
United States District Courts for the Northern, Southern, Eastern and Western Districts of Texas
Awards & Honors
"Texas Super Lawyers" (Texas Monthly Magazine, 2006-2022)
"Best Lawyers in America" (U.S. News & World Report, 2006-2020)
AV ® PREEMINENT Martindale-Hubbell rating
Practice Description
Mr. Moody advises insurance companies and their insureds. He has successfully tried tort and contract actions ranging in length from one day to six weeks. He also counsels clients on insurance coverage matters, frequently speaks on insurance topics, and has developed a growing mediation practice that focuses on insurance coverage disputes.
Representative Experience
Over 40 years of experience handling a broad range of tort, contract and business disputes. He has represented primary and secondary domestic insurance carriers in high exposure first- and third-party coverage, class actions, and extra contractual "bad faith" litigation. He also has experience representing London and other European carriers in primary, excess and reinsurance disputes.
Through representation of insureds, has represented product manufacturers and suppliers in both business and tort litigation. He also has experience in representing contractors in defective construction and jobsite accident cases, as well as representation of professionals in errors and omissions claims.
Publications, Seminars, and Cases
Stowers – Trouble With Towers, presented at the 17th Annual Advanced Insurance Law Course, State Bar of Texas, June 4-5, 2020, Webinar
Arana v. K. Hovnanian Homes-DFW, L.L.C., 2018 WL 3017307 (Tex.Civ.App. – Dallas 2018, n.w.h.)
Loncar v. Progressive County Mutual Ins. Co., 553 S.W.3d 586 (Tex.Civ.App. – Dallas 2018, n.w.h.)
Barnett v. Procom Heating, Inc., 2018 WL 1597406 (N.D. Tex. 2018)
James v. Chubb Custom Ins. Co., 2016 WL 258470 (S.D. Tex. 2016)
Fortuity Doctrine: Trying to make sense of the concepts of "Known Loss" and "Loss in Progress", presented at 2012 University of Texas Insurance Law Institute, Oct. 2012, Austin, Texas
Subrogation and Liens – Maximizing Your Client's Recovery, unpublished paper presented to the University of Houston's Advanced Insurance and Tort Claims seminar (Houston and Dallas, March 2007)
Coverage Issues in Construction Defect Claims, unpublished paper presented to the University of Houston's Advanced Insurance and Tort Claims seminar (Houston and Dallas, April 2008)
Duty to Defend and the Right to Control the Defense, unpublished paper presented at the Defense Research Institute's Annual Symposium on Excess and Reinsurance (1991)
Hartford Fire Insurance Co. v. C. Springs 300, Ltd., 287 S.W.3d 771 (Tex. App. — Houston 2009, writ denied)
Ethics Jeopardy, Council on Litigation Management, Annual Convention (2009 and 2010)
Diamond H. Recognition, L.P. v. King of Fans, Inc., 589 F.Supp.2d 772 (N.D.Tex. 2008)
Compelling Receivers to Arbitrate Under the Federal Arbitration Act, unpublished paper presented as part of the Mealey's Insurance Insolvency and Reinsurance
Roundtable discussion on "Flirting With Disaster: Insolvency" (April 1999)
The Issues and Problems Presented by "Following Form" Excess Coverage, unpublished paper presented at the Defense Research Institute's Annual Symposium on Excess and Reinsurance (1990)
TIG Insurance Co. v. Dallas Basketball, Ltd., 129 S.W.3d 232 (Tex. App. – Dallas 2004, writ denied)
Environmental Coverage Under First-Party Policies, unpublished paper presented at the Texas-Louisiana Oil and Gas Symposium (1992)
Maintenance v. ITT Hartford Group, 895 S.W.2d 816 (Tex. Civ. App. — Texarkana 1994, writ denied)
Nutmeg Insurance Company v. Pro-Line Corp., 836 F.Supp. 385 (N.D. Tex. 1993)
Hamm v. Allstate Ins. Co., 286 F.Supp.2d 790 (N.D. Tex. 2003)
Everest Reinsurance Company v. Howard, 950 S.W.2d 800 (Tex. Civ. App. — Austin 1997, writ denied) (lead counsel at trial court level)
Extra-contractual Claims in the Third-Party Context: Dead or Alive, unpublished presentation to the Dallas Bar Association Tort and Insurance Practice Section (May 2005)
Separating the Wheat from the Chaff: The Difference Between Breach of Insurance Contract and Bad-Faith Actions, unpublished paper presented to the University of Texas 9th Annual Insurance Law Institute (November 2004)
Insurance Coverage for Punitive Damages, Texas Association of Defense Counsel Seminar (Las Vegas, Nevada, April 2001)
Hartford Lloyd's Ins. Co. v. Yarbrough, 2006 WL 1469705 (S.D. Tex. 2006)
Reinsurance — What Is It?, unpublished paper presented at the University of Texas Insurance Law Institute (September 1996)
The Advice of Counsel Defense — Its Parameters and Drawbacks, unpublished paper presented at the Defense Research Institute's Annual Symposium on Excess and Reinsurance (1992)
Hartford Casualty Insurance Company v. Powell, 19 F.Supp.2d 678 (N.D. Tex. 1998)