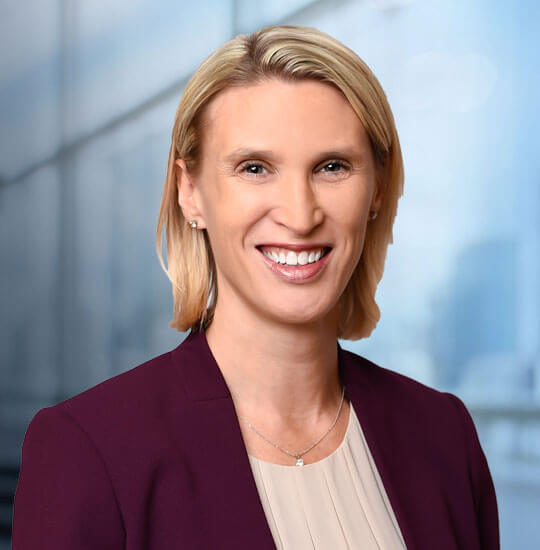 Marcie L. Schout
Practice Areas
Education
Baylor University, J.D. 2000 (summa cum laude)
Grand Valley State University, B.S. 1997 (magna cum laude)
Admitted to Practice
State Bar of Texas, 2000
Supreme Court of the United States
United States Court of Appeals for the Fifth Circuit
United States District Court for the Northern District of Texas
United States District Court for the Southern District of Texas
United States District Court for the Western District of Texas
United States District Court for the Eastern District of Texas
Awards & Honors
SuperLawyers: "Texas Rising Stars" (Texas Monthly magazine, 2006-2013)
Practice Description
Marcie Schout's practice focuses on appellate work for the firm's clients across various practice areas, including transportation and logistics, as well as the handling of insurance coverage matters, including both first party property and third-party liability issues. In addition, Marcie has overseen a large volume docket of foreclosure related litigation matters for a financial services client.
Marcie is also a member of the firm's DE&I Committee where she works closely with other members of the team to promote recruitment of diverse talent and to mentor existing talent to help them to thrive.
Representative Experience
All aspects of state and federal court litigation, including written discovery, depositions, motion preparation and briefing, hearings, and trial. Cases resolved by dispositive motion whenever possible to ensure efficiency and avoid delay.
Prepared appellate briefs and participated in oral argument before the state and federal Courts of Appeals.
Publications, Seminars, and Cases
Matter of Burch, 835 Fed. Appx. 741 (5th Cir. 2021)
Northland Indus., Inc. v. Kouba, 19-0835, 2020 WL 6255405 (Tex. Oct. 23, 2020)
Bethel v. Quilling, Selander, Lownds, Winslett & Moser, P.C.,  595 S.W.3d 651 (Tex. 2020)
Daneshjou v. JPMorgan Chase Bank, N.A., 799 Fed. Appx. 296, 297 (5th Cir. 2020)
Mt. Hawley Ins. Co. v. Huser Constr. Co., Inc., 797 Fed. Appx. 183, 184 (5th Cir. 2020)
Domel v. JPMorgan Chase Bank, N.A., 795 Fed. Appx. 273, 274 (5th Cir. 2020)
Lall v. Bank of New York Mellon as Trustee to JPMorgan Chase Bank, N.A., 783 Fed. Appx. 375, 376 (5th Cir. 2019)
In re Marzwanian, 05-18-00485-CV, 2018 WL 2928057, at *4 (Tex. App. — Dallas June 12, 2018, no pet.)
Benamou v. Wells Fargo Bank Nat'l Ass'n for Carrington Mortgage Loan Tr., Series 2007-FRE1, Asset-Backed Pass-Through Certificates, 711 Fed. Appx. 241 (5th Cir. 2018)
RLI Ins. Co. v. Costello, 697 Fed. Appx. 341, 342 (5th Cir. 2017)
Brown v. RK Hall Constr., LTD., 500 S.W.3d 509, 510 (Tex. App. — Texarkana 2016, pet. denied)