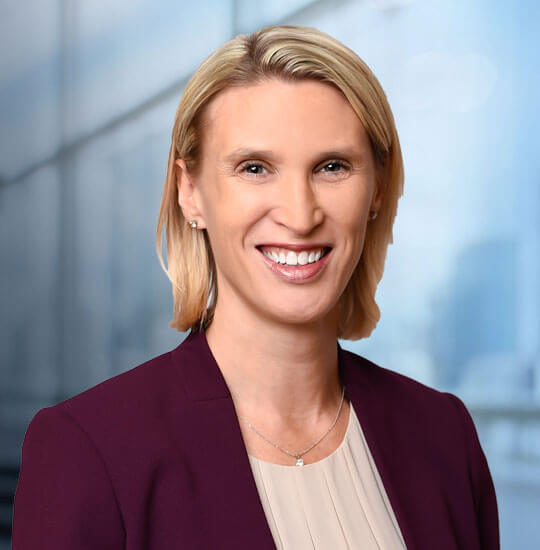 Marcie L. Schout
Practice Areas
Education
Baylor University, J.D. 2000 (summa cum laude)
Grand Valley State University, B.S. 1997 (magna cum laude)
Awards & Honors
SuperLawyers: "Texas Rising Stars" (Texas Monthly magazine, 2006-2013)
Practice Description
Ms. Schout's practice focuses primarily on handling many of the firm's appellate matters for residential lending clients. In addition, Ms. Schout represents residential lending clients in litigation throughout Texas. She also devotes a significant portion of time to insurance coverage disputes involving both liability and first party property issues.
Representative Experience
All aspects of state and federal court litigation, including written discovery, depositions, motion preparation and briefing, hearings, and trial. Cases resolved by dispositive motion whenever possible to ensure efficiency and avoid delay.
Prepared appellate briefs and participated in oral argument before the state and federal Courts of Appeals.
Publications, Seminars, and Cases
Smith v. JP Morgan Chase Bank, N.A., No. 14-10555, 2014 WL 5658947 (5th Cir. Nov. 5, 2014)
Morlock, L.L.C. v. JP Morgan Chase Bank, N.A., No. 13-20602, 2014 WL 4652902 (5th Cir. Sept. 19, 2014)
Santiago v. Novastar Mortgage, Inc., 443 S.W.3d 462 (Tex. App.–Dallas 2014, pet. filed)
Hicks v. Chase Home Fin., LLC, No. 03-13-00007-CV, 2014 WL 4058958 (Tex. App.–Austin Aug. 13, 2014, no pet.)
Reece v. U.S. Bank Nat. Ass'n, 762 F.3d 422 (5th Cir. 2014)
Emrich v. JP Morgan Chase Bank, N.A., 575 Fed. Appx. 502 (5th Cir. 2014)
Morlock, L.L.C. v. JP Morgan Chase Bank, N.A., 575 Fed. Appx. 228 (5th Cir. 2014)
Shin v. Chase Home Fin., LLC, No. 05-12-01634-CV, 2014 WL 2993815 (Tex. App.–Dallas June 30, 2014, no pet.)
Kramer v. JP Morgan Chase Bank, N.A., 574 Fed. Appx. 370 (5th Cir. 2014)
Daniels v. JP Morgan Chase Bank, 574 Fed. Appx. 337 (5th Cir. 2014)
Johnson v. JP Morgan Chase Bank, 570 Fed. Appx. 404 (5th Cir. 2014)
French v. EMC Mortg. Corp., 566 Fed. Appx. 285, 287 (5th Cir. 2014)
Green v. JP Morgan Chase Bank, N.A., 562 Fed. Appx. 238 (5th Cir. 2014), cert. denied, 135 S. Ct. 220 (2014)
Saenz v. U.S. Bank Nat. Ass'n, 02-13-00221-CV, 2014 WL 1096042 (Tex. App.—Fort Worth Mar. 20, 2014, pet. dism'd w.o.j.)
Davis v. Citibank, NA, 05-12-01386-CV, 2014 WL 1022326 (Tex. App.—Dallas Mar. 13, 2014, no pet.)
U.S. Bank Nat. Ass'n, v. Bonney, 05-12-01294-CV, 2013 WL 7149055 (Tex. App.—Dallas Dec. 13, 2013, no pet.)
JPMorgan Chase Bank, N.A. v. Classic Home Fin., Inc., 548 Fed. Appx. 205 (5th Cir. 2013) 2009.
Massey v. EMC Mortg. Corp., 546 Fed. Appx. 477 (5th Cir. 2013)
Maxwell v. U.S. Bank Nat. Ass'n, 544 Fed. Appx. 470 (5th Cir. 2013)
JP Morgan Chase Bank, N.A. v. Dixon, 541 Fed. Appx. 423 (5th Cir. 2013)
Hudson v. JP Morgan Chase Bank, N.A., 541 Fed. Appx. 380 (5th Cir. 2013)
Jenkins v. Stewart Title Co., 05-12-00685-CV, 2013 WL 3487741 (Tex. App.—Dallas July 10, 2013, no pet.)
Atchley v. Chase Home Fin. LLC, 02-12-00365-CV, 2013 WL 3064444 (Tex. App.—Fort Worth June 20, 2013, no pet.)
Shatteen v. JP Morgan Chase Bank, N.A., 519 Fed. Appx. 320, 321 (5th Cir. 2013)
Deutsche Bank Trust Co., N.A. v. Hall, 400 S.W.3d 668 (Tex. App.—Texarkana 2013, pet. denied)
Smith v. JPMorgan Chase Bank, N.A., 519 Fed. Appx. 861 (5th Cir. 2013)
Puig v. Citibank, N.A., 514 Fed. Appx. 483 (5th Cir. 2013)
Priester v. JP Morgan Chase Bank, N.A., 708 F.3d 667 (5th Cir. 2013), cert. denied, 134 S. Ct. 196, 187 L. Ed. 2d 256 (2013)
Water Dynamics, Ltd. v. HSBC Bank USA, Nat. Ass'n, 509 Fed. Appx. 367 (5th Cir. 2013)