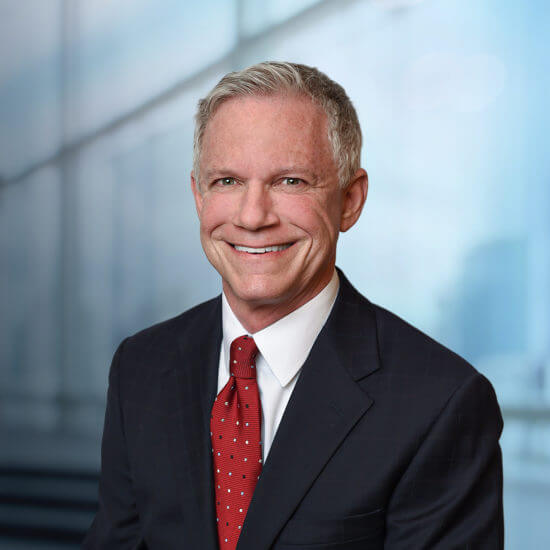 Steven J. Lownds
Education
University of Georgia, J.D. 1983 (cum laude)
University of Georgia, M.A. 1980
University of Georgia, B.A. 1979 (magna cum laude)
Qualification
Civil Trial Law
Texas Board of Legal Specialization
Awards & Honors
"Texas Super Lawyers" (Texas Monthly magazine, 2004-2013)
"Texas Top-Rated Lawyers" (Dallas Morning News & The Wallstreet Journal, 2012)
AV ® PREEMINENT Martindale-Hubbell rating
Practice Description
Mr. Lownds represents clients in complex litigation regarding banking, construction, fraud, corporate control, real estate, trademark infringement, commodities trading, deceptive trade practices and contract disputes. His consistent success in court has been based on his unique ability to condense and theme complex transactions and facts into simple and persuasive presentations.
Representative Experience
Appointed to American Arbitration Association, Commercial and Construction Panels, in 1991. Served as arbitrator over more than 100 arbitrations. Appointed to American Arbitration National Mass Claims Panel in 1998.
Served as lead appellate counsel in cases before the Courts of Appeal in Dallas, Houston, San Antonio, Amarillo, and Corpus Christi, as well as the Federal Circuit Courts of Appeal for the Fifth and Ninth Circuits.
Served as lead trial counsel with litigation team in over 50 trials and arbitrations involving commercial and business disputes. Trials and arbitrations range from a few days to over 4 months. Cases tried are diverse including disputes regarding construction delays in construction of petrochemical plants and retractable roof sports facility, business fraud, defective design of air separation facility, global freight forwarding contracts, trade secret and noncompetes, securities fraud, real estate, and the design, operation and warranty of industrial equipment.
Handled one of first "paperless" trials in Federal District Court in Dallas in 1995. For past 15 years has consistently taken advantage of the latest advancements in document management and presentation technology in discovery and the courtroom to provide the most effective advocacy for clients while keeping costs in line with the clients' ultimate objectives.
Publications, Seminars, and Cases
Formosa Plastics Corp., USA v. Kajima International, Inc., 216 S.W.3d 436 (Tex.App.- Corpus Christi, 2006, pet. denied)
Bulko v. Morgan Stanley DW, Inc., 2004 WL 2973760 (N.D.Tex. Dec. 20, 2004) (Sanders, J.)
Federal Savings and Loan Insurance Corporation v. Cribbs, 918 F.2d 557
Campbell v. C.D. Payne and Geldermann Securities, Inc., 894 S.W.2d 411
Hirschfeld Steel Co., Inc. v. Kellogg Brown & Root, Inc., 201 S.W.3d 272 (Tex.App.- Houston [14 Dist.],2006)
American Fidelity Fire Inc. Co. v. Pixley, 687 S.W.2d 50 (Tex. App. -Houston [14 Dist]., 1985)
Shamrock Roofing Supply, Inc. v. Mercantile Nat. Bank at Dallas, 703 S.W.2d 256 (Tex. App. –Dallas, 1985)
Deer Creek Limited v. North American Mortgage Company, 792 S.W.2d 198
In re Kajima International, 139 S.W.3d 107 (Tex. App. – Corpus Christi, 2004)
Kajima International, Inc., v. Formosa Plastics Corporation, USA, 15 S.W.3d 289
Brown v. Capital Bank, N.A., 703 S.W.2d 231
Bulko v. Morgan Stanley DW, Inc., 450 F.3d 622 (5th Cir.2006)